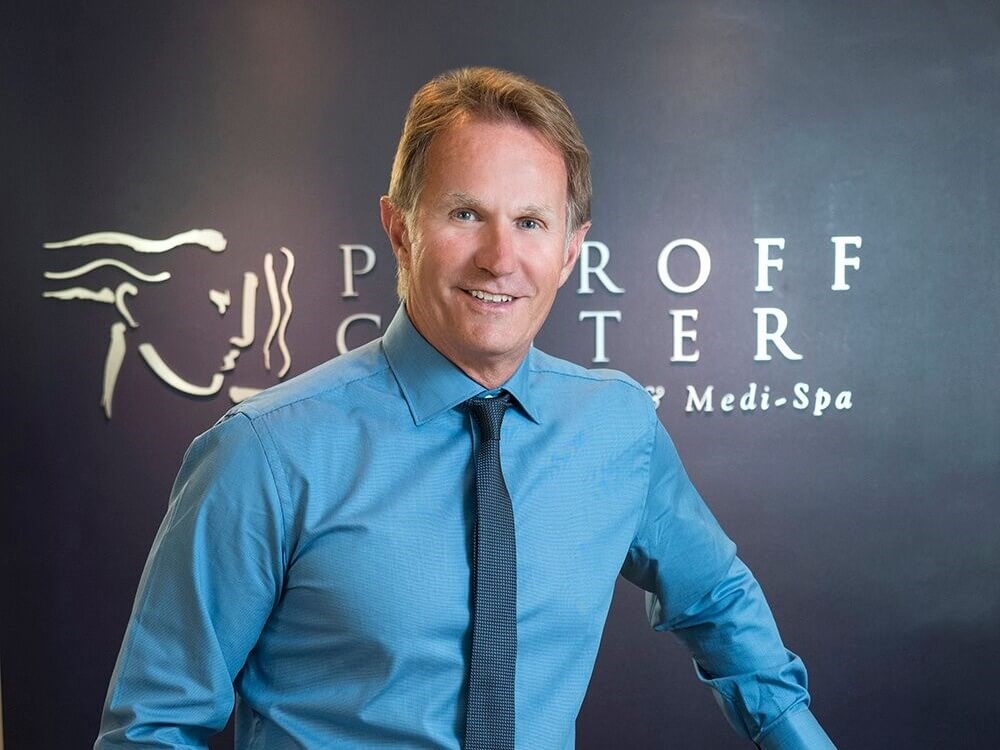 About Dr. Mark A. Petroff
Dr. Mark A. Petroff is a facial plastic surgeon in Lake Oswego, OR with a 31-year career in facial plastic and reconstructive surgery, as well as nonsurgical cosmetic procedures. As founder and medical director of the Petroff Center Plastic Surgery and Medi-Spa, Dr. Petroff is double board certified by the American Board of Otolaryngology (head and neck surgery) and the American Board of Facial Plastic and Reconstructive Surgery, and performs procedures for the Portland and Vancouver communities. Patients seek his talents from across the nation and internationally.
Dr. Petroff is also an accomplished potter with a keen interest in design and architecture, and he combines the eye of an artist with the skill of a highly trained physician. This particular aesthetic sensibility allows him to expertly evaluate the anatomy of the face and determine the best procedures to give his patients the natural, rejuvenated look they hope for. His goal is always to keep his results so seamless that his work is virtually undetectable.
Dr. Petroff has dedicated his career to servicing his patients by way of both nonsurgical and surgical procedures to improve their facial features and reverse signs of aging. He specializes in producing the most natural-looking results possible, specifically in procedures such as the facelift, rhinoplasty, blepharoplasty, endoscopic browlift, chin augmentation, and other facial enhancement procedures. He also oversees all procedures performed in his onsite Medi-Spa and minor procedure rooms. He personally performs all facial injections at Petroff Center Plastic Surgery Center and Medi-Spa. Procedures include lip and facial injections, BOTOX, laser skin resurfacing, scar revision, and many other aesthetic treatments. It is important to Dr. Petroff to consistently stay at the forefront of advances in his field, always offering the most cutting-edge services to his Lake Oswego, OR patients.
A proud native of Oregon, Dr. Petroff studied at the University of Oregon and received his MD at Oregon Health Sciences University prior to establishing his private practice. He completed his surgical residency at Stanford Medical Center and was awarded one of the most coveted fellowships in the country at the McCollough Plastic Surgery Clinic in Birmingham, AL under the direction of E. Gaylon McCollough, M.D., FACS and the late Jack R. Anderson, M.D. – both renowned experts in the facial plastic surgery field.
Achievements and Affiliations
Dr. Mark A. Petroff is recognized by his patients for his subtle, artistic touch that he has offered to the Portland, OR community for over 30 years. His years of experience have led him to teaching and mentoring residents in the role of Clinical Assistant Professor for the Department of Plastic & Reconstructive Surgery at OHSU. In addition, he is also a member of prestigious societies where he furthers his passion for facial plastic surgery. Dr. Petroff is proud to be a member of the following:
American College of Surgeons
American Medical Association
Oregon Medical Association
American Academy of Facial Plastic and Reconstructive Surgery
Clinical Assistant Professor of Plastic & Reconstructive Surgery at OHSU
In his spare time, Dr. Petroff enjoys spending quality time with his wife, three children, and two Labradoodles. He is active and athletic in multiple hobbies such as water and snow skiing, golf, and tennis. He is also passionate about architecture and the artistic qualities it entails.
Medical Privileges
Reviews
"Dr. Petroff was the most humble, amazing doctor I have ever met. I would recommend him and his team to anyone looking to have a medical procedure done. I have never felt so comfortable with a medical team, where I knew from the beginning that this is the place I 100% want to have my surgery done at. Every single person I met there was friendly, organized, and very professional. He is an amazing doctor that has an incredible gift and he has a whole team that makes his practice so ideal."
K.
Healthgrades
"I had rhinoplasty with Dr Petroff in the summer of 2005. This many years on I can attest to the quality of his skill. Completely natural looking and absolutely improved my life."
T.
Google
"Dr. Petroff and his team are very professional, deliver excellent results and most importantly show great care. I highly recommend Dr. Petroff for his expertise and desire to support his patients in the best possible way. "
Anonymous
Healthgrades
"If I could give Dr. Petroff 10 stars I would. He is a fantastic and extremely talented plastic surgeon for the face. I received a revision rhinoplasty through Petroff. My driest rhinoplasty was with an entirely different surgeon almost two years ago. My previous surgeon was too conservative and did not provide the results I'd asked for. After consulting with several surgeons and researching, The Petroff center was by far the most impressive. If you are seeking a rhinoplasty or revision, look no further, because he will make your dreams come true. Not only is his technic with the nose fantastic, all of his patients have similar results showing his technique is consistent. Outside of Dr. Petroffs technical skills and attention to detail/your needs, his medical staff was fantastic. From the scheduling, pre op and post op care, I was thoroughly communicated with via email and phone calls. His team also offers a vitamin treatment to prep for your procedure making your body stronger for the healing process. The sedation process for the procedure was great and the nurses were holding my hands/arms for comfort since I was nervous. After coming out of surgery, I had a bouquet of roses with an adorable poem from the staff. I can't believe I went somewhere else before Petroff, I wish I would have gone to him sooner. Regardless, I have no regrets and admire his talent, as well as his staffs talents."
J.B.
Yelp
"Added a few more photos of me 5 months post op! I'm so incredibly happy with my nose and have zero regrets! I can breath well, it looks even cuter than the first time I took the cast off and continues to gently heal"
J.B.
Yelp